Thorndyke Park - Thorndyke Park invasive plant ...04/28/2019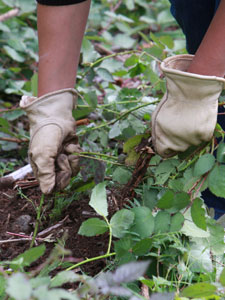 Activities
There is work to be done to reclaim Thorndyke forest in Thorndyke Park. Invasive plants have taken over, and volunteers are needed to help defend this beautiful natural area. Join neighbors and friends to help out and learn about how we plan on bringing this forest back to a natural environment.
Open to the public
All ages OK
4 out of 20 volunteers registered.
What to Bring
We provide all the tools, gloves, and other restoration supplies, but if you have a favorite pair of clippers and gloves, feel free to bring those. Please dress in layers and consider the weather, sturdy shoes or boots, long pants & long sleeved shirts will protect you from plant scratches. Bring raingear for rainy weather & sunscreen for sun. Also, bring a filled water bottle and your needed snacks. There are no restrooms at this Small Park, but Starbucks in just a few blocks away. We will teach you everything you need to know about tool use, safety, forest health, and the importance of the work you will be doing. No experience necessary, just come ready to learn something new! Be sure to sign in at registration when you arrive.
If you like you may bring a sack lunch and snacks (to refuel) and full water bottle
The event will happen rain or shine!
Where to Meet
Meet by the picnic table on the west side of the park, on Thorndyke Ave. near the middle of the park. Look for the EVENT signs.
Where to Park
Parking is on the street. The west side is also used by bus riders, so you may need to park on a side street. Metro bus 33 & 31 stop right in front of the park and the 19 & 24 & 31 stop one block away at 28th and Blaine. Get off at 28th Ave. West and Blaine and walk to block east to the park.