Lakeridge Park - Restore Deadhorse Canyon07/20/2019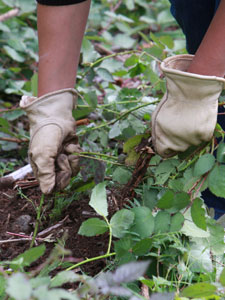 Activities
Come to the best kept secret natural area in Seattle, Deadhorse Canyon, to help us in our continuing battle for truth, justice, and ecosystem services. We always declare victory at 1 PM. We will be doing one or more of the following:
- Plant native trees and shrubs
- Remove invasive vegetation (e.g. ivy, blackberry)
- Maintain the trail
- Remove trash (this is the most glamorous job we have!)
Open to the public
All ages OK
3 out of 20 volunteers registered.
What to Bring
Wear sturdy shoes and clothes that can get dirty. We provide tools, gloves, drinks and snacks.
Where to Meet
Short version: use "68th Ave S and Holyoke Way S" as a GPS destination.
Long version:
Deadhorse Canyon is in far SE Seattle. Meet at the trailhead, at a harpin turn where 68th Ave S becomes Holyoke Way S.If you get lost call Peter Mason at 206-388-6490.
Where to Park
Limited parking is available at the trailhead meeting place. Otherwise, park 1/4 mile away, next to the Lakeridge Park playfield at the intersection of Rainier Ave S and Cornell Ave S. This is also the location of the only nearby restrooms.