Little Brook Natural Area - Little Brook Natural Area ...11/16/2019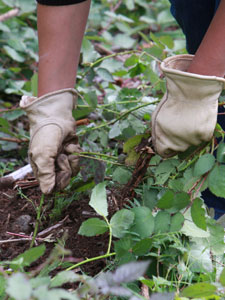 Activities
Come join us in rebuilding habitat in Little Brook Natural area by planting native trees, shrubs and ground covers. Site has been prepped but if there is time for some additional weeding, the planting area can be extended. Work area is level and uphill from the creek and under an evergreen tree canopy, so planting will commence rain or shine to ensure they get a good watering as they go into the ground. Spot mulching included to ensure protection through winter. Short demo at start of workparty on good planting techniques and tool safety.
Open to the public
All ages OK
0 out of 20 volunteers registered.
What to Bring
Tools and supplies provided. If you bring your favorite tool, please mark it so we can get it back to you. Recommend wearing weather appropriate jackets, long slacks and sturdy shoes as the site may be moist, but should not be too muddy with some mulch already covering the site. Please wear your gloves if you have them. A few spare gloves will be on hand. Light refreshments provided.
Where to Meet
Meet at the northern entrance of a loop trail that leads off from 36th Ave NE. Site address is near 11725 36th Ave NE. If you are coming from I-5, take the NE 130th street exit and head east. It will become NE 125th. Take it all the way to 36th Ave NE, then turn right to go south on 36th Ave NE. Entrance will be on your right between NE 120th and NE 117th (vacated street). Look for mulch pile and sign in sheet.
Where to Park
Parking is available on residential streets in the neighborhood.
Bus stop is on 35th Ave NE.
Date & Time
November 16, 2019 10am - 1pm
Contact
Cheryl Klinker
aeacak@gmail.com
Contact Cheryl Klinker at 206-402-8660 for further details or directions to site.
Extra Info
View
Site Map