Discovery Park - #3 If you love ...02/22/2020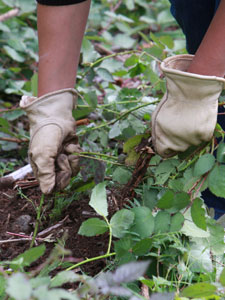 Activities
If you love Discovery Park please come help us by removing Invasive plants, including Himalayan Blackberry, English Ivy and Stinky Bob. We have just finished planting 360 native plants, so we need to do weeding so those plants can thrive. We will also be removing Invasive plants to open up space for Native plants.
Open to the public
All ages OK
17 out of 20 volunteers registered.
What to Bring
Wear clothes you want to get dirty in. Long pants better than shorts because you may encounter occasional thorns. Definitely closed toe shoes. We supply gloves and all the tools you'll need. Bring your own water please (no access at site).
Where to Meet
"South Parking Lot of Discovery Park " is what you want to to google (or other searcher). Do not search with "Discovery Park" by itself because you will end up at the Visitor Center, which is 1 mile walk from where we are working.
Once you enter the South Parking Lot, you can park anywhere and you will be a short walk (less than 10 minutes) to our site. There will be green signs pointing you in the correct direction.
Where to Park
See above.