Maple Wood Playfield - Fall Planting Continued11/22/2020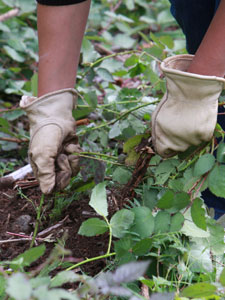 Activities
We'll pick up where we left off last Saturday, celebrating our 2020 batch of new native plants to be put in the ground before winter. More planting, more familiarization with this amazing site. I will focus a little more on planting techniques this week. We will aim to finish the planting.
Open to the public
All ages OK
0 out of 5 volunteers registered.
COVID Guidelines
Before attending this event, please watch our COVID-19 Volunteer Event Safety Video - GreenSeattle.org/COVIDvideo

Arrive wearing your cloth face covering. You will be expected to keep it on through the entire event. If you forget a mask, extras will be available. Unfortunately, we are unable to provide water and snacks during our events. Please come prepared with your own water bottle and food. You are welcome to bring your own hand sanitizer, work gloves, and specific tools applicable to the tasks outlined in the work plan below (please no power equipment). We will also supply gloves, tools, hand sanitizer, well as sanitation spray for tools.
What to Bring
Be sure to mask up and bring your own snacks and water, as well as warm layers and clothes you don't mind getting dirty as you kneel to plant a sword fern or mahonia.
Where to Meet
Meet by the mulch pile at the north end of Maple Wood Playfield by a big Doug Fir. Look for the orange-vested, very tall person (Maxfield).
Where to Park
There is parking for Maple Wood Playfield, and there are bathroom facilities. Some street parking is also an option.