Kingfisher Natural Area on TC - Searching for Clematis02/27/2021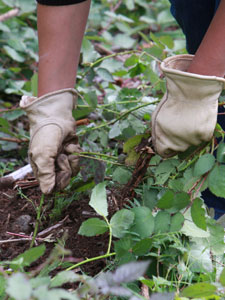 Activities
Join King Fisher Stewards to appreciate the recent plantings of neighbors and EarthCorps near 15th Avenue and to search out and remove clematis vine that is choking out our park trees to the East of that restoration zone. .
Open to the public
All ages OK
6 out of 5 volunteers registered.
COVID Guidelines
Before attending this event, please watch our COVID-19 Volunteer Event Safety Video - GreenSeattle.org/COVIDvideo

Arrive wearing your cloth face covering. You will be expected to keep it on through the entire event. If you forget a mask, extras will be available. Unfortunately, we are unable to provide water and snacks during our events. Please come prepared with your own water bottle and food. You are welcome to bring your own hand sanitizer, work gloves, and specific tools applicable to the tasks outlined in the work plan below (please no power equipment). We will also supply gloves, tools, hand sanitizer, well as sanitation spray for tools.
What to Bring
Clothing appropriate for the weather, boots, gloves, and hand tools for grubbing and cutting.
Where to Meet
North East corner of NE 104th st and 15th Ave NE, look for the green signs.
Where to Park
nearby side streets.