Herrings House Park (Tulaltwx) - First of Fall Land …09/24/2022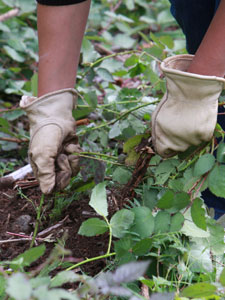 Activities
Come make a positive difference in improving the health of the Duwamish watershed that includes the Delridge community and beyond. For this event we'll be weeding and preparing for upcoming fall planting events.

Herrings House Park is located on the ancestral land of the Duwamish Tribe and fosters critical estuarine habitat where 5 species of juvenile salmon stop to feed, rest, and adapt to salt water before they continue their spawning journey out to Elliot Bay. Blue herons, Caspian terns and other important wildlife forage here year-round, as well as many species of plants native to the local coastal region. The event is good for all ages, feel free to bring the family!
Open to the public
All ages OK
2 out of 10 volunteers registered.
What to Bring
Water and a sack lunch or snacks. Dress appropriate for weather (layers are always good), wear comfortable work clothes you don't mind getting dirty and snagged and comfortable shoes with good tread. Bring gardening gloves if you have them, but extras will be available for use.
Where to Meet
In the picnic area near the parking lot
Where to Park
Parking lot entrance is at crosswalk just north of SW Alaska St (same driveway as Seattle Public Utilities but turn right after crossing train tracks). Additional street parking may be available on W. Marginal Way in front of the Duwamish Longhouse & Cultural Center.