Lewis Park - Martin Luther King Jr. …01/15/2018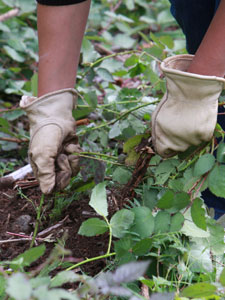 Activities
Dr. King showed us the connection between the health of our environment and the health of our communities. Honor his legacy on this day of celebration, growth and renewal. Get involved in protecting our fragile urban forest and making sure all families and animals have safe, beautiful space to visit and enjoy. On this day, we will continue the restoration and preservation of recent new plantings by mulching the area along Golf Dr. S.
Open to the public
All ages OK
9 out of 30 volunteers registered.
COVID Guidelines
Before attending this event, please watch our COVID-19 Volunteer Event Safety Video - GreenSeattle.org/COVIDvideo

Arrive wearing your cloth face covering. You will be expected to keep it on through the entire event. If you forget a mask, extras will be available. Unfortunately, we are unable to provide water and snacks during our events. Please come prepared with your own water bottle and food. You are welcome to bring your own hand sanitizer, work gloves, and specific tools applicable to the tasks outlined in the work plan below (please no power equipment). We will also supply gloves, tools, hand sanitizer, well as sanitation spray for tools.
What to Bring
Working out in the elements requires the right apparel. Long pants and closed-toed shoes are required, bring a rain jacket just in case, we work rain or shine. Dress in layers to keep warm and wear clothes you won't mind getting dirty. Bring a full water bottle, we will have water available for refills. Tools, gloves, and training will be provided. We also provide granola bars. All volunteers under 18 are required to bring a Youth Waiver Form before participating in their first work party. This form can be found on the log in page for registration.
Where to Meet
Meet at the kiosk on Golf Dr. S, just south of the junction of Golf Dr. S and 14th Ave S. across from the #36 and #60 Pac Med bus stop.
Where to Park
Park along Golf Dr S. across from the Pac Towers