Cheasty GS: Cheasty Blvd - Cheasty Trails and Bike …04/21/2018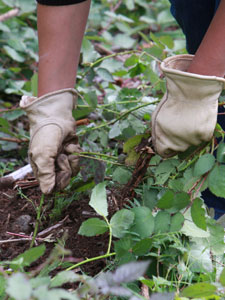 Activities
Come out and participate in this story of restoration, reclamation, reimagination and reconnection! You will be helping restore the trail corridor for Seattle's first forested mt. biking trails. Ripping out blackberry = satisfying. Learning about native habitat = enlightening. Working together = rewarding. Having fun = Having fun.
Open to the public
All ages OK
35 out of 80 participants registered.
What to Bring
Clothing that can get dirty (because it will!)
• Long pants and a long sleeve shirt (helps protect against prickly plants)
• Sturdy shoes that can handle some mud (closed toed shoes are required: work boots, hiking boots, or running shoes are all fine)
• Full water bottle
Where to Meet
Vista Point Park: 4219 28th Ave S, Seattle, WA 98108
Where to Park
If you're super smart you'll walk or ride your bike…duh! There is street parking available. It's a short walk from the Columbia City Light Rail Station. Bikes can be locked up and walking is wonderful!