St. Marks Greenbelt - Native Plants and Mulch!01/13/2018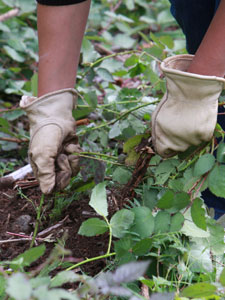 Activities
This is a beautiful place to spend your Saturday morning restoring your nearby urban forest. Help our group of Forest Stewards with monthly tasks and nourish your mind and body with refreshing Nature. In addition to working with us, you can take a walk and tour the acres of towering Big Leaf Maples and Sword ferns. If you are lucky you'll see a Coopers Hawk or two!

We will meet at the lower portion of the park on this day. We will move mulch and plant natives.
Open to the public
Adults only
4 out of 5 participants registered.
What to Bring
Layers of dirt-friendly clothes + rain coat, closed toed waterproof shoes, water and a snack. We provide tools, gloves, plants and instruction.
Where to Meet
The green space in front of the Egan House on Lakeview Blvd: click here
Where to Park
Parking is available in front of the Egan House on Lakeview Blvd: click here