Jackson Park Golf Course - Jackson Park Trail Restoration …04/21/2018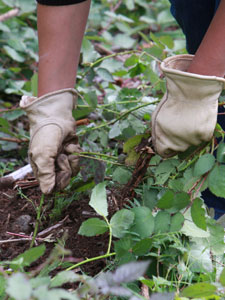 Activities
Say hello to the earth, meet new people, and contribute to the restoration of this great patch of natural ground. The 2.2-mile Jackson Park Trail in North Seattle encircles the Jackson Park Golf Course, passing through pockets of forest, crossing Thornton Creek, and offering views of the golf course/green space. We're continuing to transform the natural areas by removing ivy, blackberry and other invasive plants and putting native plant species in their place. It's hard! It's fun! You'll love it!
Open to the public
All ages OK
22 out of 20 participants registered.
What to Bring
Wear weather-appropriate clothes you don't mind getting dirty, a bottle of water and your lunch. We'll provide gloves, tools, and some snacks.
Where to Meet
We meet at the big white sculpture outside the golf course entrance, at 11th NE and NE 135th. [Golf Course Entrance Address: 1100 NE 135th St]. We work in various areas, so please email Elly if you can't be on time so you can coordinate finding the group.
Where to Park
There's a small trailhead parking area by the trail kiosk and lots of golf course overflow parking by the white sculpture, both at NE 135th and 11th NE. (Cars - Exit I-5 at NE 145th or NE 125th. Golf course is between these streets. Easiest approach is from 15th NE at NE 135th St).
Metro buses (#73, 373, 347, 348, 77) stop at NE 135th and 15th NE. From there, just walk uphill on NE 135th to the sculpture/meeting place. Or take #41 to Roosevelt and 125th and walk north on 10th NE.