Westcrest Park - Westcrest Park Forest Restoration …06/16/2018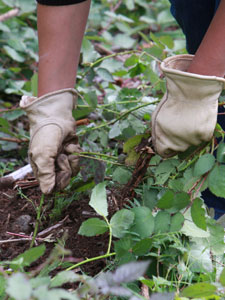 Activities
Join DIRT Corps in revitalizing Westcrest Park. This time we are returning to the Westedge location for upkeep on the work we had done last year. We will look for any Himalayan blackberries that have sprouted, and re-mulch areas that needs it.

The beginning of this volunteer event will include a brief weed ID. Combine knowledge with action as we work to clear this beautiful space of harmful species that overtakes the area. Many of you might already have this experience in your own backyard!

Let's work together to gradually transform and maintain Westcrest Park and make it a great public space for everyone to enjoy. Let us know of any questions, hope to see you out there!

Acompaña a DIRT Corps a revitalizar el Parque Westcrest. Para este día de trabajo volveremos al borde oeste. Está en nuestras manos como DIRT Corps y en la de los voluntarios el mantener el control del crecimiento de la zarzamora en este espacio!

El inicio de este evento voluntario incluirá una breve introducción de plantas invasoras. Combina el conocimiento con la acción mientras trabajamos para limpiar este hermoso espacio de las plantas invasoras que lo dañan y lo van desplazando de él. Muchos de ustedes han experimentado esto en sus patios traseros en casa!

Trabajemos juntos para transformar y mantener gradualmente el Parque Westcrest y hacer de él un espacio agradable al público para que todos puedan disfrutarlo. Déjanos saber si tienes alguna pregunta, esperamos verte ahí!

VESTIMENTA: zapatos cerrados, camisa manga larga, pantalones largos y un/a gorro/a. Vístase de acuerdo al clima.
Open to the public
All ages OK
4 out of 500 volunteers registered.
COVID Guidelines
Before attending this event, please watch our COVID-19 Volunteer Event Safety Video - GreenSeattle.org/COVIDvideo

Arrive wearing your cloth face covering. You will be expected to keep it on through the entire event. If you forget a mask, extras will be available. Unfortunately, we are unable to provide water and snacks during our events. Please come prepared with your own water bottle and food. You are welcome to bring your own hand sanitizer, work gloves, and specific tools applicable to the tasks outlined in the work plan below (please no power equipment). We will also supply gloves, tools, hand sanitizer, well as sanitation spray for tools.
What to Bring
Bring water and also lunch if you think you are going to get hungry. DIRT Corps will provide coffee and light refreshments.

QUE TRAER: Agua y almuerzo(si crees que te va a dar hambre pronto). DIRT Corps proveerá café y un pequeño refrigerio.
Where to Meet
Meet next to the dog park at Westcrest.

Map of parking and work area. click here

PUNTO DE ENCUENTRO: Conoce al lado del parque para perros.

Mapa del parqueadero y del área de trabajo: click here
Where to Park
Park in the south parking lot of Westcrest Park, entrance is off SW Henderson St.

Map of parking and work area: click here

PARQUEADERO: Parqueate en la zona sur del Parque Westcrest, la entrada está en la parte sur-oeste de la calle Henderson.

Mapa del parqueadero y del área de trabajo: click here