Colman Park - Lower Colman Park Restoration …07/14/2018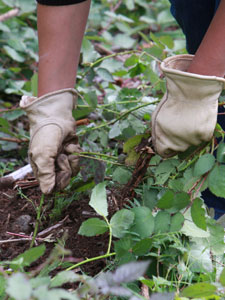 Activities
Escape the Summer sun's heat and join us in the lush growth of the lower region of Colman Park as we continue to reclaim the area from overgrowth of invasive plants like Himalayan Blackberry, English Ivy, Holly, Laurel and other non-native plants. Our goal is to uncover existing native plants and trees of these invasives to allow them to flourish and to add to the planting pallet this Fall. Come and see what an urban environment becomes without care and what it can be as we progress with the restoration work. Your volunteer efforts will help us maintain a beautiful urban forested area for all to enjoy.
Open to the public
All ages OK
3 out of 15 volunteers registered.
What to Bring
Working out in the elements requires the right apparel. Long pants and closed-toed shoes are required, bring a rain jacket just in case we work rain or shine. Be prepared to get dirty, we will be doing a lot of work on hands and knees. Bring a full water bottle, we will have water available for refills. Tools, gloves, and training will be provided. We also provide granola bars for a snack. All volunteers under 18 are required to bring a Youth Waiver Form before participating in their first work party. This form can be found on the log in page for registration.
Where to Meet
We will meet at the Kiosk that is located at the Colman Park parking lot by Lake Washington. This lot is located just south of the junction of Lake Washington Blvd. and Lake Side Ave. and is a short walk up to the area we will be restoring.
Where to Park
Park at the Colman Park parking lot. The entrance to the lot is just south of the jucntion of Lake Washington Blvd. and Lake Side Ave. (See map)
click here
Coordinates are,
47.585638
-122.286930