Ravenna Park - Equinox (almost) work party09/22/2018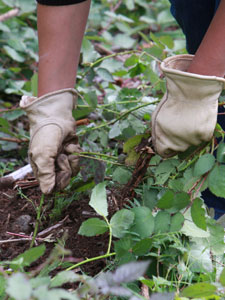 Activities
Pull invasives-time to create space for winter planting and get the morning glory before it stores all that energy in its roots.
Open to the public
All ages OK
12 out of 12 volunteers registered.
What to Bring
Water. Snacks if you need them. Sturdy closed-toed shoes or boots that you don't mind getting dirty. Rubber boots may help if you have them. Layers of clothing to adjust to work and weather, including long sleeved shirt and pants. Gloves and tools provided.
Where to Meet
Meet at toolbox under the 15th Ave NE bridge where it crosses the border between Ravenna and Cowen Parks(near Ravenna Boulevard) To get to the toolbox, you can walk down the road below the playground in Cowen Park, or take the formal trail from the corner of NE 62nd Street and 15th Ave, on the east side of 15th, and turn right at the T as the bottom of the hill.
Where to Park
Street parking. Among others, bus route 71 stops nearby.