Beaver Pond Natural Area on TC - Putting "In" The Green ...03/17/2019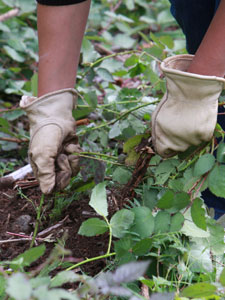 Activities
For Saint Patrick's Day, don't just put on the green, put "in" the green and help us get new native shrubs and aquatic plants planted at Beaver Pond Natural Area, near Northgate Mall. Planting techniques demonstrated and safety tips provided at start of work party. If snow or torrential rains prevail, work party will be cancelled. Work party not recommended for young children, but great for teens.
Open to the public
All ages OK
5 out of 10 volunteers registered.
What to Bring
Plants, tools, and any other materials are all provided. Light refreshments also provided. Please wear long pants, sturdy boots, and clothing appropriate for the weather. If you bring your own tools, please make sure they are marked with your name.
Where to Meet
Meet at entrance off of the west side of 8th Ave NE, south of NE 105th (narrow road from 5th into residential neighborhood. Suggest parking at Northgate Mall and walking over from 5th Ave NE on NE 105th Street to 8th Ave NE. Watch for large mulch pile and a very, tall Redwood Tree at entrance.
Where to Park
Residental parking or park at Northgate.
Date & Time
March 17, 2019 10am - 1pm
Contact
Cheryl Klinker
aeacak@gmail.com
Contact Cheryl Klinker at 206-402-8660 if questions or further directions are needed.
Extra Info
View
Site Map