Dr. Jose Rizal Park - Earth Day in Dr. …04/22/2019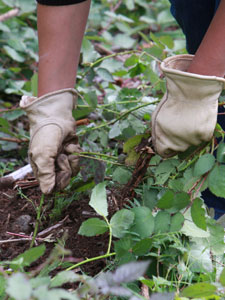 Activities
We'll clean up the slope with one of the grandest views of Seattle, prepping the area for a trail improvement project selected by citizens in the Your Vote, Your Voice project of Parks and SDOT. We'll remove some ivy and blackberries, plus cut back suckers from big leaf maples, so opening lines of visions into the woods and orchard of the park, while also improving public safety. We'll spread woodchips as mulch around previously planted and well established evergreens, and may put a few survival rings in place, too. The apple trees and flowering shrubs will be in bloom, and we may expect to see and hear many songbirds. We'll create a pile of cut brush that songbirds can access for nesting materials in the area, too. All tools will be provided.
Open to the public
Adults only
27 out of 30 participants registered.
What to Bring
A water bottle, a favorite tool if you have one. Dress for the day; always a good idea to wear long pants and have the option of a long-sleeve shirt. Sturdy shoes: no sandals or flip-flops. First-aid kits will be on the site, still good to have an extra in your car.
Where to Meet
At Dr. Jose Rizal Park, 1008 12th Avenue South, directly west of the PacMed building. Right off the middle of the parking lot is a big cottonwood tree beside some benches. We'll meet there for orientation.
Where to Park
There is a parking lot at the park, plus a $3 all-day lot on the north end of the PacMed campus. There is street parking, too. There is an RPZ in the neighborhood. I'll have "Do Not Ticket" signs available for windshields (no one gotten a parking ticket at any past events.