Lincoln Park - Mr. J's Student Restoration ...05/31/2019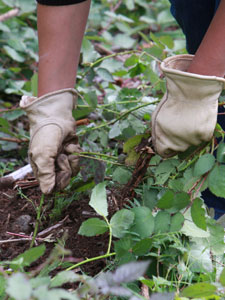 Activities
MR. J's FOREST STEWARDS FOR A DAY! Mr. Junkerman's 4th grade class (Genesee Hill Elementary) are gathering at Lincoln Park as part of an awesome 'hands-on' field trip. In addition to gaining expert ivy-pulling skills, students will gain lots of restoration knowledge and learn about the important ecosystem benefits of our urban forests and native plants. Not to mention, a day outside in one of the most beautiful parks in Seattle.
Open to the public
All ages OK
0 out of 35 volunteers registered.
What to Bring
Students are welcome to bring their own gloves or borrow a pair (we have plenty!). Dress in NW layers to stay warm/cool and dry. We suggest long sleeves and pants year to protect from scratches. Wear closed toe, sturdy shoes or boots. Reusable water bottles and sunscreen are encouraged. LUNCH: Please plan to bring lunch to eat in the park.
Where to Meet
Meet at the park map kiosk next to the NORTH parking lot.
Where to Park
NORTH Parking Lot (Fauntleroy SW & SW Rose St)
Date & Time
May 31, 2019 9:30am - 1pm
Contact
Lisa McGinty
lmcginty@gmail.com
Lisa McGinty, FLiP Forest Steward: 248-506-7155
Extra Info
View
Site Map