Westcrest Park - Blackberry clear-out!07/14/2019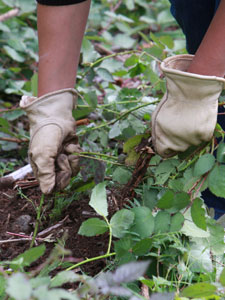 Activities
Blackberry and ivy removal!

Great time of year to work on a forested restoration site that needs a bit of attention. Will be targeting ivy and rogue blackberry canes along trail edges. Spend some time among the trees and restoring unique PNW habitat!
Open to the public
All ages OK
1 out of 20 volunteers registered.
What to Bring
Water bottle and hands ready to pull out some invasive plants.
Where to Meet
Will meet at the picnic tables east of the Westcrest P-patch.

From SW Henderson St lot, site is to right of sidewalk along east edge of P-Patch. If you hit the dog park you've gone too far!
Where to Park
Closest parking via the SW Henderson St entrance from Henderson Pl SW. Lot near the P-patch and playground. Additional parking from 8th Ave SW entrance.