Beaver Pond Natural Area on TC - Beaver Pond Natural Area ...09/15/2019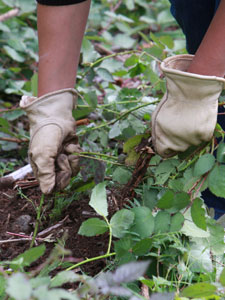 Activities
Come join us in an unexpected natural area close to Northgate Mall to help with some site prep for native plants that will replace the invasives removed at this work party. Unleash you energy on blackberry and ivy, and then wrap up with moving mulch by wheelbarrow.
Open to the public
All ages OK
6 out of 20 volunteers registered.
What to Bring
Tools, wheelbarrows, and supplies provided. If you bring your own tools, please make sure you mark them so we an make sure you leave with them. Light refreshments and water provided also. Wear sturdy shoes, long slacks, and gloves if you have them We will have a limited supply of gloves available.
Where to Meet
Meet at the entrance on west side of 8th Ave NE, just south and around the corner off of NE 105th Street. From I-5, take Northgate Way eastward to 8th Ave NE, turn right and head south on 8th Ave NE. Entry will be on your right just past NE 105th Street, across from Northgate Community Center. Look for tall, signature redwood tree and a large mulch pile just off of 8th Ave NE.
Where to Park
Limited parking on residential streets. Recommend parking at Northgate Mall and walking over to the site by crossing 5th Ave NE on NE 105th Street to 8th Ave NE, then turn right and entry will be in about a hundred feet.
Date & Time
September 15, 2019 10am - 1pm
Contact
Cheryl Klinker
aeacak@gmail.com
Contact Cheryl Klinker at 206-402-8660 for more details or further directions.
Extra Info
View
Site Map