Discovery Park - Habitat Restoration10/19/2019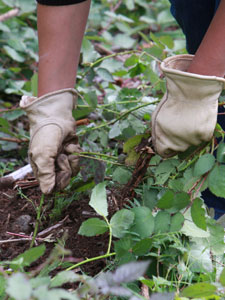 Activities
Healthy forests provide many services for our community – rain water absorption and filtration, oxygen production, wildlife habitat, and vibrant spaces for connection!

Join other volunteers to help restore Discovery Park back to a healthy forest that can support a diversity of plants and wildlife. We will teach you how to identify and remove invasive species and how to maintain areas where these weeds have been extracted. Removing aggressive weeds like English Ivy and Himalayan Blackberry will create space for native Pacific Northwest plants. Everyone is welcome – no experience necessary.
Open to the public
All ages OK
3 out of 30 volunteers registered.
What to Bring
Weather-appropriate clothing that can get dirty and will protect against prickly plants

Sturdy, closed-toed shoes

Full water bottle (we will have a jug on site for re-fills)

Sack lunch

Coffee and vegan snacks will be provided. Please bring your own travel mug to reduce waste.
Work gloves provided.
Where to Meet
Meet by the sign board in the North Parking Lot. The site is a beautiful 15-minute walk from this entrance. If you arrive late, please check the board for a map of our location.
Where to Park
Parking is available in the North Parking Lot.
The parking lot is also accessible by the 33 Bus.