Thorndyke Park - Thorndyke Park / Forest ...11/23/2019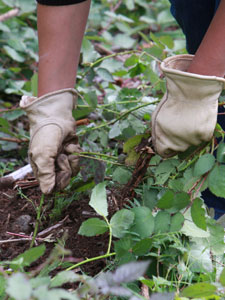 Activities
Give thanks by giving back and planting trees! Join Friends of Thorndyke Park for our fall planting event. With incredible community support, we have worked hard all year to clear some areas of the park near the Southern border of invasive species and ready the ground for new seedlings! Now it is time to put our new plants into the ground before the winter rains to give them the best chance of survival. We have 300 trees, shrubs and ferns to get into the ground and would love to have you join us! Come learn about and help restore your local urban forests!
Open to the public
All ages OK
0 out of 30 volunteers registered.
What to Bring
We provide all the tools, gloves, and other restoration supplies, but if you have a favorite pair of clippers and gloves, feel free to bring those. Please dress in layers and consider the weather, sturdy shoes or boots, long pants & long sleeved shirts will protect you from plant scratches. Bring rain-gear for rainy weather & sunscreen for sun. Also, bring a filled water bottle and your needed snacks. There are no restrooms at this Small Park, but Starbucks in just a few blocks away. We will teach you everything you need to know about tool use, safety, forest health, and the importance of the work you will be doing. No experience necessary, just come ready to learn something new! Be sure to sign in at registration when you arrive.
If you like you may bring a sack lunch and snacks (to refuel) and full water bottle
The event will happen rain or shine!
Where to Meet
Meet at the South end on the west side of the park, on Thorndyke Ave. Look for the EVENT signs.
Where to Park
Parking is on the street. The west side is also used by bus riders, so you may need to park on a side street. Metro bus 33 & 31 stop right in front of the park and the 19 & 24 & 31 stop at the south west end of the park just before the park begins