Discovery Park - Bedstraw, Buttercup & Blackberry, …11/29/2020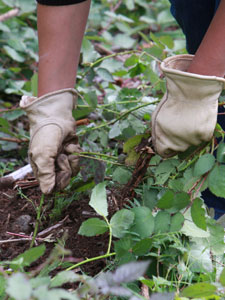 This event is full (registration closed)
Activities
Wolf Tree is a wooded wetland thriving habitat for wildlife from ground to tree top, from salamanders & snakes to hawks & owls. But invasive plant species encroach from edges, including the nonnative bedstraw (aka clevers), creeping buttercup, Himalayan blackberry, vested blackberry, cutleaf blackberry, herb Robert, English ivy, morning glory, clematis, nipplewort, and bull thistle. Wolf Tree needs vigilant invasive detectives to maintain its health.
Open to the public
Adults only
5 out of 5 volunteers registered.
COVID Guidelines
Before attending this event, please watch our COVID-19 Volunteer Event Safety Video - GreenSeattle.org/COVIDvideo

Arrive wearing your cloth face covering. You will be expected to keep it on through the entire event. If you forget a mask, extras will be available. Unfortunately, we are unable to provide water and snacks during our events. Please come prepared with your own water bottle and food. You are welcome to bring your own hand sanitizer, work gloves, and specific tools applicable to the tasks outlined in the work plan below (please no power equipment). We will also supply gloves, tools, hand sanitizer, well as sanitation spray for tools.
What to Bring
Bottled water and dress for the weather and the work. We provide tools and gloves, but if you have your own favorite pair of work gloves, feel free to bring them.
Where to Meet
North parking lot, but that can get busy, so come early in case you need to wait for a spot or walk from another lot. End of the line for bus #33.
Where to Park
The north parking lot at the job box near the main trail head.