Golden Gardens Park - Golden Gardens Park Work …01/16/2021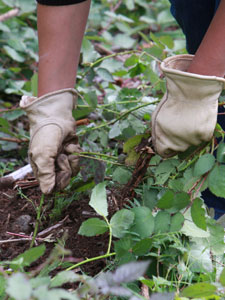 Activities
Do you want to restore the forest at Golden Gardens Park? Come out and help us plant native species that return the forest to a more natural ecosystem. We provide tools and training so we only need your enthusiasm to help restore this beautiful park.
Open to the public
Adults only
7 out of 5 participants registered.
What to Bring
Wear sturdy pants, long sleeved shirts, boots, and raingear. All tools, gloves, materials are provided.
Where to Meet
Directions to Golden Gardens Park
• Starting from I-5, take exit 172 (N 85th St)
• Drive west on 85th Street for 3.3 miles
• At T-intersection, turn right onto 32nd Ave
• Drive 0.6 miles, follow the main road as it veers left and turns into Golden Gardens Drive NW
• Turn right into parking lot for dog park
• Walk from parking lot toward dog park and we meet at restroom building
• The GPS coordinates are: 47.689762 / -122.400090
Where to Park
Parking lot for dog park