Discovery Park - If you love Discovery …06/12/2021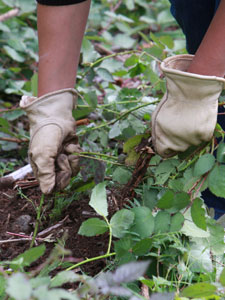 Activities
If you have walked near the South Parking Lot in Discovery Park you may have seen us working there. We focus on removing invasive Himalayan Blackberry, so that we have room to plant 400 native plants in November. The blackberry
has been cut to ground level, so you will not need to fight your way through a blackberry jungle. All you need are boots and a mask and we provide the shovels. You can wear your own gloves, or we provide clean gloves.
Open to the public
Adults only
2 out of 10 volunteers registered.
COVID Guidelines
Before attending this event, please watch our COVID-19 Volunteer Event Safety Video - GreenSeattle.org/COVIDvideo

Arrive wearing your cloth face covering. You will be expected to keep it on through the entire event. If you forget a mask, extras will be available. Unfortunately, we are unable to provide water and snacks during our events. Please come prepared with your own water bottle and food. You are welcome to bring your own hand sanitizer, work gloves, and specific tools applicable to the tasks outlined in the work plan below (please no power equipment). We will also supply gloves, tools, hand sanitizer, well as sanitation spray for tools.
What to Bring
There is no bad weather, only bad clothing choices. The right choice is clothes you want to get dirty in, and be warm and dry in.
Where to Meet
"Discovery Park South Parking Lot". That's what you want to put in your device. If you put in "Discovery Park" you will likely end up a mile away at the Visitor Center. In the parking lot you will see a number of green colored signs directing you to the site.
Where to Park
The South Lot is frequently full on weekends. There is parking on W. Emerson St. and a pedestrian entrance at 41st Ave. W.