Little Brook Natural Area - End of Spring Workparty …06/19/2021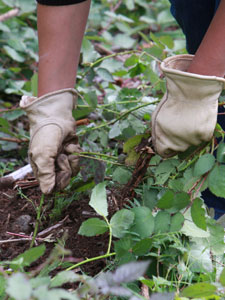 Activities
Looking to work out some stress and frustrations by cutting and digging out blackberry in a soothing, canopy covered natural area full of calming bird song? Then this is the workparty for you! Help keep this gem of a natural area tucked away in south Lake City looking its best for its many local visitors and healthy for its many wildlife inhabitants.
Open to the public
Adults only
1 out of 10 volunteers registered.
COVID Guidelines
Before attending this event, please watch our COVID-19 Volunteer Event Safety Video - GreenSeattle.org/COVIDvideo

Arrive wearing your cloth face covering. You will be expected to keep it on through the entire event. If you forget a mask, extras will be available. Unfortunately, we are unable to provide water and snacks during our events. Please come prepared with your own water bottle and food. You are welcome to bring your own hand sanitizer, work gloves, and specific tools applicable to the tasks outlined in the work plan below (please no power equipment). We will also supply gloves, tools, hand sanitizer, well as sanitation spray for tools.
What to Bring
Shovels, loppers, buckets and tarps all provided. You are welcome to bring your favorite tools such as pruners and hand digging tools but please mark them so we can make sure they go home with you. Please bring your own gloves and masks. We will be masking and distancing to ensure all are protected. Sanitization supplies will be on hand. Please also bring your own snacks and beverages if needed. Long slacks, long sleeves, and sturdy shoes are highly recommended for work party attire.
Where to Meet
Meet at the wide, north entry trail on the west side of 36th Ave NE, south of NE 120th Street. Signage will be posted and someone will be there to sign you in.
Where to Park
Limited parking in residential neighborhood on 36th Ave NE and cross streets around the natural area.
Date & Time
June 19, 2021 10am - 12pm
Contact
Cheryl Klinker
aeacak@gmail.com
Contact Forest Steward Cheryl Klinker at 206-402-8660 if you need further directions or have questions about this work party.
Extra Info
View
Site Map