Beaver Pond Natural Area on TC - Workparty PotPourri at Beaver …09/19/2021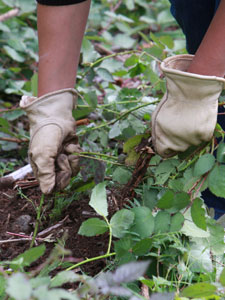 Activities
Join us for a variety of restoration activities: blackberry removal, ivy pull, laying cardboard, moving mulch, and more. AND, enjoy an autumn morning among the trees along Thornton Creek. Please come masked for sign in at start of the event.
Open to the public
All ages OK
5 out of 15 volunteers registered.
What to Bring
Shovels, loppers, tarps, buckets, and mulch all provided. You are welcome to bring your own favorite tools, but please make sure they have your name on them so they go home with you. Please bring your own water and snacks if needed. Long sleeves, long slacks, and sturdy shoes recommended. Please bring your own gloves.
Where to Meet
Meet at the 8th Ave NE entry, south of NE 105th. Site is south of the Northgate Community Center at 13002 10th Ave NE. If you travel via I-5, take Northgate exit, go east on Northgate Way to 8th Ave NE, then turn right and go south on 8th Ave NE just past NE 105th. Entrance will be on the right (west side) of 8th Ave NE. Look for mulch pile, large redwood tree and a clearing under it.
Where to Park
Residential street parking is limited surrounding the natural area. Another option is to park around Northgate Mall area and walk across 5th Ave NE to NE 105th Street and follow it east to 8th Ave NE, and then turn right. Entry will be just a few yards on the right. Metro Buses 347, 41, 67, and 75 all have stops on 5th Ave NE.
Date & Time
September 19, 2021 10am - 12pm
Contact
Cheryl Klinker
aeacak@gmail.com
Contact Forest Steward Cheryl Klinker at 206-402-8660 for further details or directions.
Extra Info
View
Site Map