Warren G. Magnuson Park - Martin Luther King Day …01/17/2022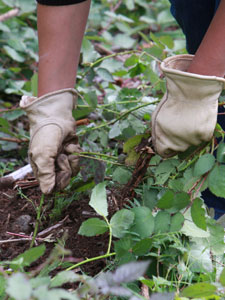 Activities
Spend this day of service improving park land which will provide the community with nature for mental and physical health and other benefits like temperature moderation and cleaner air and water. Work will be with teams of UW restoration ecology students removing invasive plants and preparing for future planting

Youth below high school age may not have enough physical capacity to do the work.
Open to the public
All ages OK
33 out of 30 volunteers registered.
What to Bring
Dress for the day's weather and wear long pants, long sleeved top, and closed toe shoes you don't mind getting dirty, muddy, and wet.. Wear layers if it is chilly and if it is rainy bring rain gear.

Bring your own water bottle and snack.

if bringing your own gloves be aware that thermal weight rubber faced cotton gloves can give good protection from thorns, but lighter weight gloves of any material may not.
Where to Meet
Meet near the east side of Field 4.

To reach the meeting place from parking lot W6 on the west side of the park head east on the path between Field 5 (lighted Rugby) and the Children's play area to where the path encircles fields 1-4. Then either head northeast across the fields or follow the path around the fields to the meeting place.

To reach the meeting area from the swim beach area parking lot E4 head northwest and uphill over the mowed grass area to reach the north cross park trail. Then follow the trail westward and downhill to meeting place.Total distance from the swim beach lot to the meeting area is about 3/8 mile.

If approaching from the west side of the park head for the sports meadow (sports fields 1-4), follow the road around its perimeter and head up hill on the north cross park trail from the east side of the grass sports field area.

A Magnuson Park map is available on-line at: click here
Meeting Location Map
Where to Park
Park in either lot W6 on the west side of the park or E4 on the east side.

To reach lot W6 enter the park on NE 74th St. and drive east about a quarter mile to where you will see the large Lot W6 on the right (south of NE 74th St.)

To reach Lot E4 near the swim beach enter the park eastbound on NE 65th St. from the Sandpoint Way NE/NE 65th St intersection. From there proceed straight eastward about a half mile to a stop sign then bear left (North) about 3/8 mile to reach the swim beach parking lot. Directional signage along the route shows the way to the swim beach.