Beaver Pond Natural Area on TC - Transforming Beaver Pond Natural …01/23/2022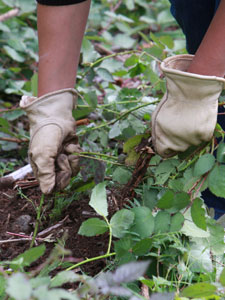 Activities
Late but not forgotten, native shrubs waiting to get into the ground at Beaver Pond Natural Area and you can help. After "tucking" them in for the rest of winter, we will give them a thick layer of mulch all around to keep them warm and protected. Level area has already been weeded and soils loosened so planting should be easy. Planting guidance will be provided at start of event. Weather reports show cloudy with showers, but if it is pouring rain, we will reschedule.
Open to the public
Adults only
7 out of 10 volunteers registered.
What to Bring
Tools, buckets, tarps, wheelbarrows, plants and mulch all supplied. If you bring your own favorite tool, please make sure it is marked so it goes home with you again. Please wear clothing appropriate for the weather. Bring work gloves and wear sturdy shoes as some areas can be wet. Masking will be worn for initial gathering but can be removed after you start planting. Please bring your own snacks and beverages if needed.
Where to Meet
Meet at the 8th Ave NE entry just south of the intersection of NE 105th Street and 8th Ave NE, west side of the street. Look for large mulch pile at curb, and Forest Steward with sign in sheet. If you are traveling on I-5, take the Northgate exit, then take Northgate Way east to 8th Ave NE, turn right on to 8th and travel south past NE 105th Street by a few hundred feet.
Where to Park
Parking is limited in residential neighborhood around the natural area. If you park at Northgate Mall, cross 5th Ave NE on NE 105th, walk eastward to 8th Ave NE, turn right and go a few hundred feet to entry. You will walk past the south side of the Northgate Community Center and north side of Pacific Medical Clinic.
Date & Time
January 23, 2022 10am - 12pm
Contact
Cheryl Klinker
aeacak@gmail.com
Contact Cheryl Klinker at 206-402-8660 (cell) if you have questions or to get futher diretionsd to the site.
Extra Info
View
Site Map