Thorndyke Park - Thorndyke Park / Forest …08/27/2022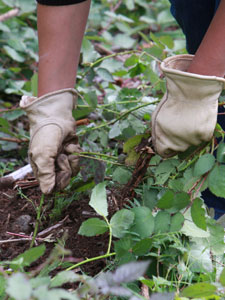 Activities
While the exact tasks can vary, our projects focus on improving the forests and parks in our local cities. Healthy and thriving forests are vital to our community because they absorb and filter rain water, produce clean oxygen, provide living spaces for wildlife, and create a place for people to connect with the outdoors.

In order to help create healthy forests, the work can include:
• Removing aggressive weeds (like English Ivy or Himalayan Blackberry)
• Maintaining areas where these weeds have been removed

Invasive plant Clean-up (rain or shine)
2821 Thorndyke Ave W
We're pulling ivy and small invasive trees and black berry shoots coming back in the area we have replanted.
Gloves and tools are provided.
All ages welcome (small ones with parents)
Open to the public
All ages OK
3 out of 25 volunteers registered.
What to Bring
We provide all the tools, gloves, and other restoration supplies, but if you have a favorite pair of clippers and gloves, feel free to bring those. Please dress in layers and consider the weather, sturdy shoes or boots, long pants & long sleeved shirts will protect you from plant scratches. Bring raingear for rainy weather & sunscreen for sun. Also, bring a filled water bottle and snack if you like
Where to Meet
1809 Thorndyke Ave W at the corner of Thorndyke Ave W & W Hayes
Look for EVENT Signs Follow the ORANGE arrows to the work area
Meet by the metal job box on the south end of the forest where the sidewalk ends and the dirt trail begins.
Look for the EVENT signs. Follow the orange arrows
Where to Park
There should be plenty of street parking on the west side of the park on Thorndyke.