Discovery Park - If you love Discovery …08/13/2022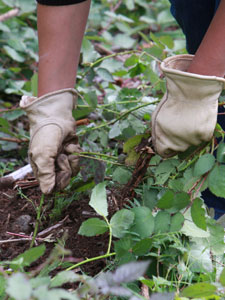 This event was canceled
Activities
We are providing loppers and shovels to remove Himalayan Blackberry. This day we will focus on cutting the Blackberry down to the ground. That way we will clear the thorned branches out of the way when we return to dig our the roots.
Open to the public
Adults only
0 out of 20 volunteers registered.
What to Bring
Himalayan blackberry is loaded with thorns, so long pants and long sleeves are necessary. Some Boots are essential as well. We will be providing canvas gloves of all sizes.. If you have leather, it's a good idea.
Where to Meet
South End of the South Parking Lot at Discovery Park. Our site is directly East from there. There will be a number of signs pointing the site.


Do Not go to the Visitor's Center, it's quite far from the South Parking Lot.
Meeting Location Map
Where to Park
Two common options:
Getting to the South Parking Lot: Enter your car at Emerson and 43rd Ave. A couple of curves and you're in the a lot.
Parking on Emerson Street-- Street parking. On busy weekend very crowded.