Harrison Ridge Greenbelt - Prepare planting sites in …10/22/2022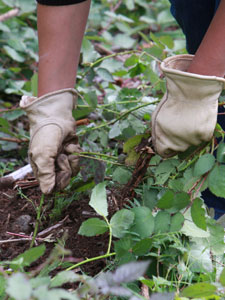 Activities
In late October and early November we will be planting native species throughout the recently established areas of the greenbelt. On this day we will be working in each of those areas---clearing any remaining invasive species, weeding around last year's new plantings, and bringing woodchips to the sites.
Open to the public
All ages OK
8 out of 10 volunteers registered.
What to Bring
We'll have some refreshments but bring your own water bottle and if you think you might want something more, bring a sandwich.
Where to Meet
There is a workbox at the second bend of the switchback that starts on 32nd Ave E between John and Denny. We'll gather there and distribute tools and gloves.
Where to Park
There is adequate parking on the neighborhood streets.