Little Brook Natural Area - Mulch Milieu at Little …09/24/2022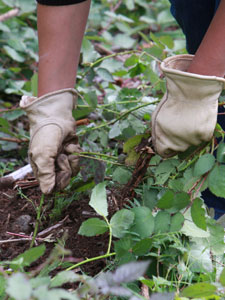 Activities
Help improve the environment for humans and wildlife at this hidden natural area on Little Brook creek. Reclaim and create a safer community asset for the neighborhood. All it takes is spending a couple hours digging out some grass, and then moving mulch from the entry on 36th Ave NE back to an old foundation being used for a native wildflower garden to support bees and birds. Some one-man rock and woody debris need to be redistributed also.
Open to the public
All ages OK
6 out of 10 volunteers registered.
What to Bring
Bring yourself in long slacks, long sleeves, sturdy shoes, and some work gloves.
If you bring your own tools, please mark them so we make sure they go home with you. Tools, buckets, tarps, wheelbarrows, and mulch all provided at site.
Where to Meet
Meet at the north entry on 36th Ave NE, adjacent to 11719 36th Ave NE. Look for large mulch pile, and a Forest Steward standing nearby with sign in sheet.
Where to Park
Limited parking on residential streets surrounding the site. Bus lines are on 35th Ave NE. Walk eastward from 35th Ave NE to 36th Ave NE, then turn right to head south about half a block on 36th Ave NE to the north entry on the west side of the street.
Date & Time
September 24, 2022 10am - 12pm
Contact
Cheryl Klinker
aeacak@gmail.com
If you need further details about the workparty, or directions to the site, please contact Forest Steward Cheryl Klinker at 206-402-8660 (cell).
Extra Info
View
Site Map
Event Safety Measures
For more information on what to expect during your Green Seattle Partnership event, including current COVID-19 safety measures, please visit:
greenseattle.org/get-involved/volunteer