Genesee Park and Playfield - Green Seattle Day 2022 …10/29/2022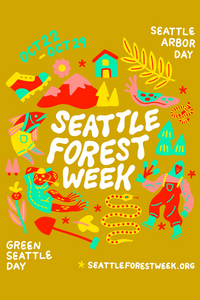 Activities
Friends and students of O'Dea High School! Welcome to our community effort to restore the forested areas at the very south end of Genesee Park. We will be preparing the site for planting native plants by pulling out weeds like blackberry and ivy.

Help us create a healthier, happier, and greener Seattle by coming out to end Seattle Forest Week on Green Seattle Day! Lets improve wildlife habitat, combat climate change, and providing a place for community members to recreate.

Green Seattle Day is one of the best ways to give back to your neighbors, parks, and your local forest.

Check out SeattleForestWeek.org for more information on the celebration of Seattle's forests during the week of October 22-29!
Private Event
All ages OK
39 out of 30 participants registered.
What to Bring
Please dress in layers and wear clothes and shoes you don't mind getting VERY dirty. Please bring your own filled water bottle and work gloves if you have them - we will provide clean gloves and tools for everyone.
Where to Meet
Meet at the south end of Genesee Park at the edge of the forest, just up the hill from the synthetic turf playing fields on the SOUTH side of S Genesee Street, near the intersection of 43rd and Genesee. Look for signs for a Green Seattle Event.
Meeting Location Map
Where to Park
Park at the parking lot on the south side of S Genesee Street where it meets 43rd Ave. S. From there, walk past the playground, soccer playfields and restrooms, up the hill towards the trees.
Date & Time
October 29, 2022 12:30pm - 3:30pm
Contact
Elissa Ostergaard
elissaost@gmail.com
Contact Elissa at 520-730-8921 with questions.
Extra Info
View
Site Map
Event Safety Measures
For more information on what to expect during your Green Seattle Partnership event, including current COVID-19 safety measures, please visit:
greenseattle.org/get-involved/volunteer