Discovery Park - Outdoors@Amazon Stewardship Day at …10/15/2022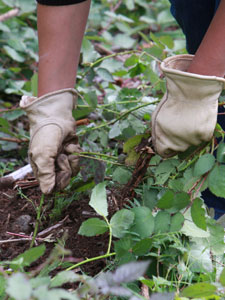 Activities
We're going to deprecate a bunch of blackberry vines and roots to make way for the Fall planting of native plants and pollenator havens later in Q4! Meet your colleagues and take care of the planet all in the same day!
Private Event
All ages OK
10 out of 20 volunteers registered.
What to Bring
Sturdy shoes, long sleeves and pants, any sunglasses, sunscreen, and weather-appropriate gear you desire. I will have very good elkskin and deerskin gloves to protect your hands, and I have all the tools we'll need. I also have coolers of water and snacks to sustain us! Bring some bad attitude toward those blackberry roots!
Where to Meet
We'll meet in the South Parking Lot to make it simplest, then walk 2-3 minutes to the site, which is to the east of that lot, just below the curve in the paved access road called "Carolina Ave". You can walk in at the pedestrian entrance close to 42nd and go straight on to the parking lot if you've parked on Emerson instead of in the Lot.
You can also enter at 39th Ave. and proceed to the west (left). When you see the large tree with a Loop Trail sign next to it, the site is to the right about 15 yards (but the S. Parking Lot will be straight on another 2 minutes' walk).
Meeting Location Map
Where to Park
South Parking Lot or on Emerson Ave.
The 24 and 33 buses run through Magnolia to Discovery Park as well.