Westcrest Park - "International Day of Forests" …03/25/2023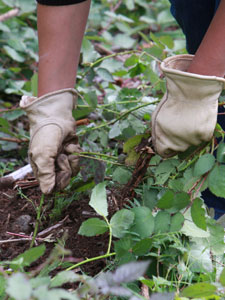 Activities
Come join our volunteer restoration event to celebrate 2023's "International Day of Forests"! This week, volunteers are encouraged to undertake local efforts to organize activities to celebrate and raise awareness of the importance of all types of forests.

We'll be working to restore Westcrest's madrone forest, removing blackberries and other target species, thus ensuring that last Fall's plantings can continue to thrive!
Open to the public
All ages OK
8 out of 20 volunteers registered.
What to Bring
Please wear and bring with you what you will need to be comfortable spending a few hours working outside.

Dress in layers for the weather, and consider bringing additional dry, insulating, or waterproof layers.

Remember to bring water, sunscreen, sunglasses, a hat, or any other accessories to protect yourself from the elements.

We will provide the gloves and tools!
Where to Meet
Please meet at the tool chest directly west of the Westcrest Park's P-patch: click here
Where to Park
Westcrest Park's south parking lot: click here