Little Brook Natural Area - Little Brook Ivy & …05/27/2023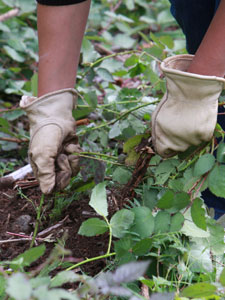 Activities
Make life better for the native plants and the wildlife that live among them in this gem of a hidden natural area on Little Brook Creek. Work areas are level and easy to access. Pair up with a friend or spouse, or one of our core volunteers for a morning of fun and accomplishment. The Forest Steward is glad to go over safety and weeding tips, and is always happy to give a quick tour of the natural area at the end of the work party.
Open to the public
All ages OK
7 out of 12 participants registered.
What to Bring
Bring yourself in long slacks, sturdy shoes, and work gloves. Protective clothing or sunscreen recommended even though you will be working most of the day under the tree canopy. Bring your own water and snacks if needed. If temps are rising into the 80's or above, the work party will be rescheduled. Tools, tarps, buckets, and wheelbarrows provided.
Where to Meet
Meet at the north entry adjacent to residence at 11719 36th Ave NE. Look for the double mulch piles and the Forest Steward with sign in sheet in hand. If you come from I-5, take the NE 130th street exit, drive east all the way to 36th Ave NE, and then turn right to head south on 36th Ave NE just past NE 120th Street. Entry will be on your right.
Where to Park
Residential street parking available but somewhat limited. Bus 65 runs north and south on 35th Ave NE. You can get off at NE 120th Street and walk over to 36th Ave NE.
Date & Time
May 27, 2023 10am - 12pm
Contact
Cheryl Klinker
aeacak@gmail.com
Contact Forest Steward Cheryl Klinker at 206-402-8660 for more details or additional directions to the site.
Extra Info
View
Site Map
Event Safety Measures
For more information on what to expect during your Green Seattle Partnership event, including current COVID-19 safety measures, please visit:
greenseattle.org/get-involved/volunteer