Discovery Park - No Snow?! Let's Plant! …03/24/2019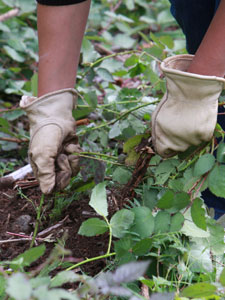 Activities
Please come out to plant some beautiful native plants! I have hand selected lots of native pollinator plants for this season as well as awesome plants that will help our forests thrive. Many woody species provide bird habitat and other similar types of habitat for small creatures and many bugs, butterflies, moths, etc. I am very interested in replacing the invasive blackberry forage with native forage that birds and other species will love. Please join me in this journey! I can tell you all about each one when you come out to help. I can't wait. Please don't snow, Seattle.
Open to the public
All ages OK
10 out of 20 volunteers registered.
What to Bring
WEATHER APPROPRIATE CLOTHING - Please be advised to keep extra clothes in your car or bag just in case. It's never fun to be without, my site is so close to where you park just leave it in your car for later. CLOSED-TOE SHOES - Preferably ones you don't mind getting dirty and will stay dry in case of rain. Rain boots work well - we are on pretty flat ground. A GREAT ATTITUDE - Let's have some fun while learning about our urban forests! WATER BOTTLE There is no water source directly on site, the nearest is a short 5 minute walk at the restrooms. **Gloves will be provided, but feel free to bring your favorite pair!**
Where to Meet
Discovery Park - North Parking Lot Entrance
3801 Discovery Park Blvd, Seattle, WA 98199

From the main entrance, follow Discovery Park Blvd for 0.3 miles. Take a RIGHT on Illinois Avenue, and follow it downhill the remaining 0.4 miles to the North Parking Lot. Parking is on your LEFT, the restoration site is on your RIGHT, behind the bus stop.

Bus Route 33 conveniently stops right alongside the restoration site at Texas Way and Illinois Ave. Look for the apple tree in the lawn.
Where to Park
Anywhere in the lot! You should see the work party as you drive in.