Puget Park - Puget Park Invasive Weed …01/16/2021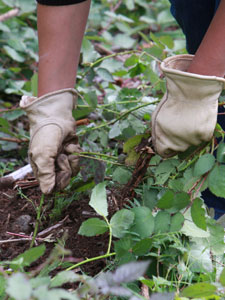 Activities
Hey all Puget Park lovers. Rainy January got you down? Looking for some volunteers to help dig up invasive weeds. On a good note with all this rain digging up Himalayan Blackberry, Stinky Bob, Holy, Hawthorne, Ivy and any other invasive weeds we find along our way will be a breeze.

Space is limited to 6 spots due to COVID safety regulations so only serious volunteers - if you can't make it, no worries just be so kind as to release your spot. And please save paper and register online before coming to the advent.

Thank you kindly! Looking forward to see you Saturday, January 16th.
Private Event
All ages OK
6 out of 6 participants registered.
What to Bring
We have plenty of tools but if you'd prefer your own - we will be using hand clippers, shovels, and rakes.

Bring: work gloves (heavy duty ones work best with Blackberry), water & snacks.
Where to Meet
Park entrance at 19th Ave SW & Dawson
Meeting Location Map
Where to Park
Plenty of parking on 18th Ave SW & Dawson