Cheasty Greenspace: Mt View - Stewardship Squad05/25/2022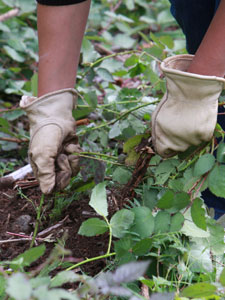 Activities
Stewardship Squad has been stewarding Cheasty Greenspace for almost 10 years! Come and enjoy the magnificent work of your predecessors and contribute your own little piece of energy to this historic collaboration.
Open to the public
All ages OK
6 out of 20 volunteers registered.
What to Bring
Enough enough food and water to keep yourself sustained, and wear close-toed shoes and clothes that can get wet, dirty, and possibly even ripped. If you have a favorite pair of work gloves, you can bring them, but usually we have plenty to spare.
Where to Meet
The street-end stairs of South Alaska Place. The nearest address for mapping is 2801 South Alaska Place.
Where to Park
Parking on South Alaska Place is zoned for 2 hours, but there is unlimited neighborhood parking at the south end of the park, where 27th Avenue South L's into South Angeline Street. (Nearest address for mapping is 2629 South Angeline Street.) From there, follow the forest trail downhill. Keep going past the first junction, and after that, veer right until you get to Mountain View Drive. You'll see us right across the street.
Date & Time
May 25, 2022 11am - 2pm
Contact
Cheasty MtView
adostrovsky@gmail.com
You probably already have Heidi's phone number. I'm at 206-851-1371 if you have any other problems.
Extra Info
View
Site Map
Event Safety Measures
For more information on what to expect during your Green Seattle Partnership event, including current COVID-19 safety measures, please visit:
greenseattle.org/get-involved/volunteer