Roxhill Park - Join Us at Roxhill …10/15/2022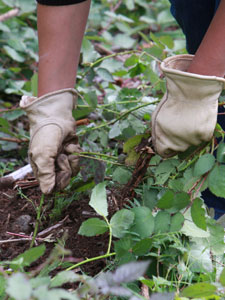 Activities
As part of the Duwamish Alive! event, we'll be cleaning up the park and caring for the native plants. This will involve removing invasive plants to give the native ones room to grow. Expect to work hard and get dirty!
Open to the public
All ages OK
7 out of 20 volunteers registered.
What to Bring
Dress in layers and prepare for the weather Wear long sleeves and sturdy shoes. There are tools in the "box" at the park, but you are always welcome to bring your own. Shovels, hand tillers, hand clippers and loppers can usually find some use! If you have your own gloves, please bring those too.
Where to Meet
The parking lot isn't that big. I'll be in the area south west of the restrooms. Usually I say, please come on time, but since the window is longer, if you come some time after 10am, you'll need to wander the park looking for folks doing some work! I wear a bright orange vest so I'm pretty easy to spot.
Meeting Location Map
Where to Park
Sometimes GPS takes you to the playfields on Roxbury but the parking lot is off of Barton (north of the park), on the west side of the park.
Date & Time
October 15, 2022 10am - 2pm
Contact
Andrea O'Ferrall
andreaoferrall@comcast.net
You can text me at 206 240 3996 if you can't find us on the day of the event.
Extra Info
View
Site Map
Event Safety Measures
For more information on what to expect during your Green Seattle Partnership event, including current COVID-19 safety measures, please visit:
greenseattle.org/get-involved/volunteer