Puget Park - Group Puget Park Planting …12/03/2022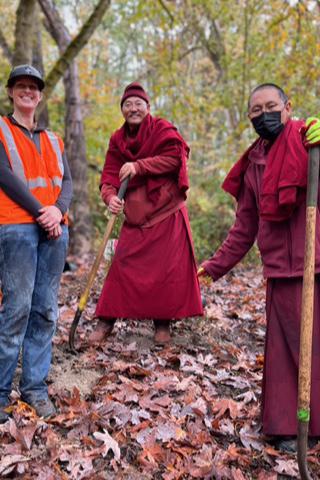 This event was canceled
Activities
The Marici Fellowship and Christine Clark will be hosting a Tibetan Prayer and Planting Park in Puget Park. Our event will start with a few Tibetan Monks doing an amazing chant, prayer, and blessing of Puget Park. Afterwards we would love for all to join in planting a variety of plants through out the park. The Monks will be blessing plants and helping out as well. Come, it will be magical.

The Marici Fellowship is based out of the Sakya Monastery of Tibetan Buddhism in the Greenwood neighborhood of Seattle. According to Teresa Lamb of the fellowship, in Tibetan monasteries and Buddhist sites all over the world sacred buildings called stupas or chortens are built as a symbol of the mind of the Buddha although there are many meanings. Many prayers and blessings exist in these locations. H.E. Avikrita Vajra Sakya, the Head lama, wanted to make it so these sacred, blessed places exist not only in structures far away but in the form of a living monument—such as a tree.
Open to the public
All ages OK
5 out of 25 participants registered.
What to Bring
Water, Gloves, Rain gear. I have lots of tools and some gloves if needed.
Where to Meet
19th Ave SW & SW Dawson St.
Meeting Location Map
Where to Park
18th Ave SW & SW Dawson (one block east of park entrance)
Date & Time
December 3, 2022 11am - 2pm
Contact
Christine Clark
christinimcb@me.com
Christine Clark - 206.790.7027
Extra Info
View
Site Map
Event Safety Measures
For more information on what to expect during your Green Seattle Partnership event, including current COVID-19 safety measures, please visit:
greenseattle.org/get-involved/volunteer